Simplify processes
The Orchestrator is a key component of the JD Edwards platform. It is a highly accessible, 'low code' solution to further automate business processes. This can range from internal system processes to external applications, devices, cloud services and other data sources.
With this tool, companies are able to easily and fully automatically transfer data from IoT devices and other services into usable business processes in JD Edwards EnterpriseOne applications. This is a cost-effective way for companies to stay ahead of the competition in the ever-changing IoT landscape.
Orchestrator accelerates an organization's digital transformation and can be quickly deployed to automate business processes. Orchestrator Studio, part of the JD Edwards Orchestrator, enables organizations to test and implement process orchestrations in an accessible way. Thanks to the user-friendly interface (with drag and drop), external data is easy to link and you can easily enter data, create notifications and send messages.
Forza's consultants have knowledge of the most diverse programming languages such as C#, Java and Groovy. This makes every conceivable integration possible. In addition, our professionals have extensive knowledge of and experience with various integration solutions, including Oracle Integration Cloud Services, Magic XPI, EDI Messages and Talend.
Need a specialist?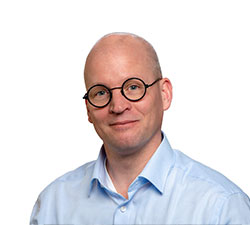 As Business Unit Manager, Dirk-Jan is responsible for the smooth running of all Managed Service activities.
With more than 20 years of international experience, Dirk-Jan's background gives him a unique perspective coupled with his strong empathy. As a trusted advisor, Dirk-Jan makes every effort to add value based on mutual trust, he attaches great importance to service and quality and as a trusted advisor he advises and unburdens our clients.